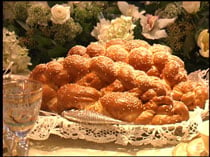 Lag Ba'Omer Family BBQ & Picnic

You are cordially invited to join Chabad of Peachtree City for a delightful and fun-filled afternoon together with family and friends. Kosher hot dogs, hamburgers, watermelon and more...An event for all the family! Click here to RSVP with Payment.

FOR LOCATION:

Contact Us 

DATE:

Sunday, May 18, 2014 

TIME:

3:00 PM to 5:00 PM 

COST:

$5.00 per person 

SPONSORSHIPS:

 Start at $50.00

CONTACT INFORMATION: 

[email protected] / 678-595-0199 

Lag Ba'Omer is a festive day on the Jewish calendar, celebrating the anniversary of the passing of the great sage and mystic Rabbi Shimon bar Yochai, author of the Zohar. It also commemorates another event. In the weeks between Passover and Shavuot, a plague raged amongst the disciples of the great sage Rabbi Akiva. On Lag BaOmer the dying ceased.

Lag Baomer this year is on May 18, 2014.